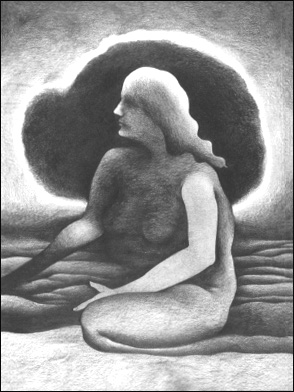 Goddess, [1980], pencil
Critical eye
I
She was so damn intelligent.
When we were in Tepoztlán in 1981-82, I was trying to work my way back into literature after the seven years of cultural history that I devoted to America and the Patterns of Chivalry. I was trying to figure out, or re-figure, where I really stood as a reader, and how it was that I could like such diverse things as I did. I was also trying to come to terms with certain aspects of modernism. I wrote what I thought of as chapters on horror movies, thrillers, the poetry of J.V. Cunningham, the short fictions of Borges and Kafka. I concluded with a long chapter on nihilism and modernism that eventually formed the basis for some talks I gave in Toronto.
In 1985, after having got bogged down in the topic of censorship, I returned to the Tepoztlán book, did more work on it, and sent it off to my publisher at Cambridge University Press, Michael Black, a man whom C. liked and admired. I had shown it to a friend and colleague in my department, who returned it with some pencillings here and there but with what I took to be a general endorsement. Another friend and colleague wrote "Brilliant!" on it.
Michael Black, who had been a marvellous publisher and editor for me, in effect rejected it. At least, he raised certain questions about the relationship between the first two chapters and the later ones that I knew I couldn't cope with. I was devastated. C. had at that time just had a serious operation. I gave her the manuscript to read in hospital (I don't come out of this looking good, I know), and she read it all, and she endorsed Michael's questioning.
I was devastated again. I think that after that I stopped showing her such few things as I wrote—essentially a piece on three American novelists for Boris Ford's Pelican Guide, and the Toronto talks. But she was right, as I realized later when I reread the book and decided to cannibalize it for essays.
And my real point is this.
On various pages she had made pencil markings and written brief comments, and they were simply dead right. What she praised deserved to be praised, and what she questioned was vulnerable or worse. It was a beautifully focussed reading. She was not a literary critic, and she had just had an operation. But it was she and not my two intelligent colleagues who could look at a page and see and say, precisely, and unsparingly, what was wrong—a wrongness beyond the reach of simple rhetorical tinkerings.
II
In the Eighties she did some brilliant art reviewing, coping with a variety of styles and techniques among younger artists and finding things to praise in works very different from her own. She had the power of summary and synthesis. She was a more organic writer than I was. But the reviews are too big a subject for me here.