Green Bay, 1980, ink
Green Bay
I
When we arrived in Halifax from Minneapolis in early September, 1961, I was exhausted and threw up one afternoon in the street. My chairman Allan Bevan told us that the aunt of one of my new colleagues, Mac (Malcolm) Parks, had summer cottages for rent down the coast, and encouraged us to go there.
We took the train, got off at a nowhere station, Italy Cross, out in the country, and were met by a rural person who drove us towards the invisible sea, on a glorious hot dry sunny day, through a landscape of gentle hills, winding roads, small fields, and occasional white-frame houses and churches. The village we were going towards was Petite Riviere, a sprinkling of houses at the point where a small swift river entered a shallow estuary. There had been a sawmill there. Green Bay, where the MacLeod cottages were, was a mile further on.
II
The cottages had been built by Malcolm and Rhoda MacLeod over the years, starting, I think, shortly before the Second World War. There was now a nest of them, a dozen or more, among evergreens near the water's edge, each with a name—Blueberry Hill, Ship Ahoy, etc. They were simple in construction—a square base, vertical joists rising maybe six or seven feet, a single outer skin of planks, a pitched roof rising to a central point. Inside, partitions that didn't extend all the way to the roof provided three bedrooms and a small kitchen area.
Each cabin had an efficient fireplace and chimney. Each had a small attached room with toilet and washbasin. The kitchen stove operated off bottled gas. There was a pile of chopped wood outside for the fireplace. The furniture was miscellaneous, no doubt bought cheaply at yard sales and auctions, but there was always at least one table, a couch, and a sufficiency of chairs, both straightback and rocking. The kitchen utensils, carefully itemized in a sheet of paper thumbtacked to the wall, were also very miscellaneous, but there was enough to meet the needs of a sizeable family of vacationers. There was also a refrigerator.
The mantelpieces and walls were decorated with cheap reproductions of nautical pictures, objet-trouvées constructions by holiday-makers, shells, cork floats, and the like. It could all have been corny; in fact it was adorable. These cottages had been loved by the MacLeods and the people who had stayed in them. They were loved by us.
III
One way and another, sometimes for a week or two, sometimes for only three or four days snatched before classes after Labour Day, we must have gone back there ten or a dozen times and stayed in half a dozen different cottages.
We deliberately went there after Labour Day, when it was easier to get a cottage. They were booked solid earlier. We were told that families, including American families, came back year after year, so that eventually people who had been kids when they were first taken there came back with their own kids. I suspect that there were quite a number of academics among those families and that the MacLeods were fairly choosy and didn't want the sort of people who would be bored because there was no TV.
IV
The MacLeods had contrived things so that there was only a stone's throw or less between some of the cabins, each was sheltered among its own clump of trees, so that one felt really private.
The shore—a sandy beach in a tiny bay here, a jumble of sea -shattered rocks in front of one of the small promontories, another small bay with pebbles and weed-covered rocks—was only a minute or two away; sometimes only a few feet away. One stood there and looked across to Risser's Beach, away across the estuary, and way beyond that to the seemingly unbroken line of what were in fact the Le Have islands. The open sea was away off to one's right.
There were always seagulls there, and loons at times, or some kind of diving bird. One or twice we saw seals. On one or two other occasions, a mink ran over the rocks. There were squirrels in the trees—actually a small wood—behind the cabins. At night raccoons came. We would bait the garbage can outside with something savoury-smelling, and wait at the window with a flashlight. When a raccoon found itself spotlighted, it would calmly go on picking the garbage apart with its delicate paws.
When one got bored with this miniature paradise, one could follow the shore road past other people's summer houses, other beaches, and a rustic-looking antique store, to a canteen that over the years has come to serve some of the best country food that I have tasted.
One could go on beyond that too to further beaches, usually more or less empty. The road turned into a trail after awhile, impassible for cars, but it kept going a long way, with dry sandy earth under foot, and the smell of sun-baked vegetation.
V
We were at Green Bay when it was gloriously sunny. We were there when it rained virtually every day. We were there when it was cold at night inside those uninsulated plank walls after the fire had died out. I don't think we were ever bored.
If it was too wet to go out, I would build a fire, and we would play patience or sink-the-battleship, or read the kinds of junk paperbacks, Agatha Christie and the like, that other guests had left behind or the MacLeods had provided. When C.'s health was still good, we drank a lot, comfortably—a couple of drinks before dinner, wine with dinner, a nightcap. Sometimes we put on our raincoats and walked in the rain, to the canteen or back into Petite Riviere, where there was a general store, another antique shop, and eventually a small art gallery. At night when the sky was clear we walked along the shore road and tried to identify the constellations.
After we bought Bony and after him the VW Rabbit, we would go for drives in various directions. There was always something to do and that it was fun doing together. At times when we set out for Green Bay after Labour Day, I was tense and tired, and was sure that this time I would be bored. But I wasn't. The place always worked its magic. I have never known anything like it.
VI
C. did a lot of drawing there. I cannot remember if she did the watercolours and coloured inks of the sea or from memory later. She did some wonderful drawings of the sea there, both with pen and ink and with coloured crayons. Indeed, I think she says in her conversation with Ian Lumsden that she did all her sea drawings there.
It was only towards the end of the Eighties that she lost interest in drawing the sea and shore, and said irritably that she had no desire to simply do photographic studies of trees. I think that by then she had drawn all that was there to interest her—waves breaking, the seaweed covered rocks—and that she had no desire to simply repeat herself and make pictures.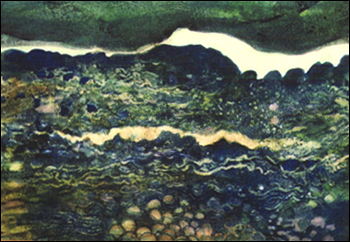 Waves, n.d., coloured ink