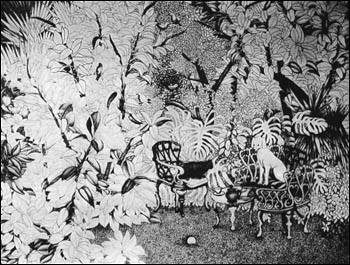 Mexican Tea Party, 1982, pencil
Tepoztlán
I
In the summer of 1968 we spent a month with Bruno and Molly Bobak out on Galliano Island, in Vancouver Sound. One afternoon Bruno and I were sitting on the beach, and he asked where we were going to spend my sabbatical in 1969-70. I didn't know. He said, in his drawling, nasal, half-ironical, throwaway manner, "Well, why don't you go to Mexico?" A light-bulb went on for me, and though I knew almost nothing about Mexico, I knew that that was where we'd spend the sabbatical.
When I told her we'd drive there, C. asked if I'd gone out of my mind. We had a car, a used Morris Oxford, but I'd had very little driving experience, and we certainly couldn't go to Mexico in that. C. couldn't drive at all and was terrified of driving.
But she took driving lessons, forty of them, and we bought a new four-wheel-drive International Scout with a bench front seat, very convenient for maps and guide books, and we drove down through the States, some of it through what was then darkest Mississippi, at least in our minds, and spent three nights in New Orleans in the French Quarter, and two or three nights in San Antonio, a lovely old-shoe city that reminded me of Minneapolis.
II
We drove turn and turn about. She was an excellent driver, she loved driving Bony, as we named the car, after Arthur Upfield's Australian detective-hero, and she had more stamina than me. When we reached New Orleans at dusk during rush hour, she confidently drove us all the way in to the French Quarter.
The driving through Mexico that fall was lovely. We had the roads pretty much to ourselves, and we passed through some gorgeous landscapes during the best season, when things had revived because of the summer rains—vast, wide-angle mountain-fringed plains in the north, like Provence blown up to three times its actual size and with all the telephone wires removed and cactuses added; Japanese-like high-altitude wood-covered mountains further South around Uruapan and Tzintzuntsan.
C. came to be moved by almost everything in Mexico, but at that time it was Tepoztlån that took her heart.
III
When we first saw it and realized how cheaply we could get it, our first house in the village looked like one of those dreams-of-cheap-luxury houses. So in some ways it was.
It was too small for C. to have a studio in it, so she had to paint in the bathroom, and I have a shadowy recollection of her working on Grandparents II in there. Nor could it be heated. We were cold in our single beds in December, even with every available covering piled on them. Eventually C. made us flannel pajamas.
But it had two servants in a two-room house inside the main gate— Senora Lopez, intelligent and from Oaxaca, so that she lacked the Tepoztlån sullenness, plus her gardener husband, plus their small son, a caged parrot called Loro, and a bouncy little black dog called Conica. There was a small kidney-shaped pool in the garden, usually either too dirty or too cold to swim in. The lawn and flower beds were scrupulously cared for. And we could sit and have breakfast on the veranda that ran most of the length of the house, and look across the garden to the intricately crinkled eastern wall of the valley, with a small Aztec temple at the top.
The house was a reasonably comfortable one-storey bourgeois house, with a good deal of wrought-iron and glass in it. I doubt that it was over ten years old. It was owned by a married couple, he Mexican and a lawyer, she American and involved, I think, with real estate. Or were they both lawyers?
Visually it was Edenic—just us, and nature, and the sky, and the garden. Aurally, a good many village noises—church bells, music played over loudspeakers, and so on—came our way. But that was just part of the local colour. We were only two or three blocks from the plaza, the shops, the biweekly markets. Pigs and fowl foraged in the lane outside . One of the pigs, a big one, we called Black Pig, and he or she obviously enjoyed life a lot. One day there was a frightful screaming in the lane. Reality had obviously caught up with Black Pig, and he/she was off to be butchered.
But once we were inside the tall black iron door we were very private.
All this for $125 U.S. a month!
IV
We had three months in the house, and then it was sold out from under us. But we had enough notice to be able, after some oriental-type negotiatings, to move into a larger two-storey house on the opposite side of the valley when the hippie couple, Ted and Tark (short for Tarkington), who were renting it returned to California.
It had been built for two brothers from the village, shoe-makers now living in Mexico City, who planned to retire to it. There was only minimal furniture, two or three pieces of which we bought from Ted. We bought the beds ourselves, and in effect bought the stove for the two brothers. But the house still cost us less per month than the first one, and it had all the facilities that we needed, including a fine large studio for C. and a work-room for me with a large table and a view of the hills.
On the opposite side of the street was the house and garden of Sara Dominguez, an American woman a little younger than C. She was married to a Mexican artist called Pancho, who spent almost all his time elsewhere and was liable, we were told, to go into jealous drunken rages on the occasions when he came home. Sara was heavily into astrology, Tarot cards, herbal medicines, and the like. She supported herself and her small daughter Leah by designing and sewing very elegant clothes.
Karen Dakin, a tall blonde American linguist in her late twenties or early thirties, lived a couple of blocks away. She was working on the local Indian language Nauhatle. Her friend the dark-haired Frenchwoman Claude Besnault lived near her. We did a good deal of casual entertaining in our dining room, mostly of Karen and Claude.
There must have been getting on for a hundred foreigners living in the village, quietly, like Claude and Karen and Sara. We were inside a dozen homes, and we met at least twenty gringos whom we found it interesting talking to, a number of them artists.
Residents there weren't seeking intense relationships with persons like ourselves, or concerned to play one-up games, or inquisitive about our backgrounds. They were not, at least the ones we liked were not, the kinds of American/Canadian expatriates who were constantly talking about money, about the cost of living in Mexico as compared to back home, about how cleverly they had bought this or that artifact in their living room. They were not seeking the envy of newcomers to validate their being expatriates.
On the whole people kept protective spaces between themselves and others, which made things more comfortable.
V
C. enjoyed our time in Tepoztlån that year.
She enjoyed the company of the three women I've named, who together offered her much more than she had in Halifax. She enjoyed meeting new people. (She had told me once that she couldn't live without other people, after I had said that I myself didn't feel much need for company.) She enjoyed shopping in the bi-weekly market in the plaza and successfully using her small amount of Spanish, at that time probably largely free of verbs. She enjoyed all the things that caught your eye as you walked around the village—the many trees and bushes, the textured walls, the livestock in backyards, the little girls in their rebozos carrying little pails of corn home and giggling at my height.
She enjoyed the Christmas festivities outside the churches, and the towers of bamboo with fireworks on them that Karen took us to see on one occasion, and the week of monotonous dancing by masked and costumed chinelos in the plaza. She loved the Night of the Dead, which occurred not long after we arrived. That night there was no street lighting, there was simply the light of the small bonfires in the street in front of people's houses. She thought that magical.
She enjoyed our drives into Cuernavaca once or twice a week, along an interestingly winding road, with some lovely views. She was thrilled by the abundance of unfamiliar flowers, and flowering trees and bushes, at spots along that road after the rainy season. She enjoyed it when we sat and had our ritual capuchinos in one of the cafes on the two interconnected plazas in Cuernavaca. She enjoyed our modest Mexican lunches there. She loved Mexican food in general, and was knowledgeable about a number of the peppers used in cooking. She loved the huge covered market in Cuernavaca, with its abundance of food, clothing, household goods.
She loved it when we returned from Mexico City in Bony or by bus, a trip which took us up about ten thousand feet at one point, and came at last in sight of the twisted rock formations of Tepoztlån, our own Tepoztlån, with perhaps, if the day was clear, a magical glimpse of the far-off snow-whitened peak of Mount Popo (Popocatapetl). She enjoyed the high-up cross-country trip we once made in Bony to visit a small Aztec temple with Bob Berg, a fellow M.F.A. student from Minneapolis now in the art department at San Diego and spending a few months with his wife and children in Cuernavaca. We had run into Bob and Patti on the street in Cuernavaca. That kind of thing happened during that sabbatical.
VI
We spent two Christmases in Tepoztlån in the early Seventies. For the first, we stayed with Claude in the house that she was renting. For the second, we rented what I suppose would be called a studio apartment attached to the house of a handsome and very European older friend of Claude's called Paula Oppenheimer, who made what was probably a very good living in the antique business.
In 1981 we returned to Tepoztlán for my second sabbatical.
VII
Karen, now living in Mexico City, had found a place for us, with some difficulty. It was a bungalow apartment, built expensively of grey and black basaltic stone, and attached to the rather baronial house of the Mexican widow of John Langdon. John reportedly wrote the script for The Guns of Navarone, and had died not long before, probably from cirrhosis of the liver.
Our apartment consisted of a darkish kitchen and two large bedrooms, each with a small bathroom. There were two other stone buildings in the garden, one a bungalow apartment, the other a two-story building with a small apartment on each floor. In effect it was a compound, walled in, and with a gate that was closed at night.
Our landlady, Geneveva, was a good-looking, slightly plump woman in her early forties who led a probably dramatic mental life inside her castle, from which she occasionally emerged to discipline the garden. (Not with her own hands. She had a gardener.) Most of the drama revolved around money, I imagine. Her husband had left their affairs in a mess.
At first she obviously viewed us with deep suspicion, because the incompetence of a Halifax bank official delayed our being able to pay her. But once she decided that we were all right and that she liked us—liked C. especially—she confided in us volubly from time to time, and also generously bought a magnificent red-cushioned chaise longue for the lawn. I did a fair amount of reading and writing in it, as well as working on my tan.
She reminds me, now that I come to think of it, of Raul Hugo, our landlord in Ajijic in 1989-90. For quite a while I kept expecting them to do something financially devious, or ask some inconvenient favour of us, or be emotionally intrusive. But in fact they were honourable and generous in their behaviour and, so far as I could see, genuinely concerned for our well-being.
Moreover, both liked art, Geneveva especially, whose very handsome house (I suspect she had a large hand in designing it) had a lot of magnicent pre-Colombian and other artifacts in it. She was also a strong-minded landscape gardener, who had created in the compound what it was natural to think of as a typical Tepoztlån garden, with lots of lovely tropical vegetation grouped around it. In fact she had created a more southern garden, one that recalled her native Oaxaca. It was gorgeous.
VIII
We had breakfast virtually every day, even in December, on white-painted wrought-iron furniture set in as a sort of alcove of vegetation. C.'s drawing Mexican Tea Party is a pretty literal depiction of the site.
When we stood or sat on the lawn, we had a fine view of some of the Tepoztlån hills. On a clear day we could even see the wraith-like Mount Popo that C. caught so beautifully in the lovely little painting that, to my fury, she sold for a song to my colleague John Baxter. The painting showed one of the views on the Cuernavaca road. The painting Jacarandra Tree was a companion piece.
The garden also had a small swimming pool, though it was mostly too dirty to use. Dragon-flies and spectacular butterflies visited the garden, also a science-fictional, gleaming, blue-green fly that would hover absolutely motionless like a space-craft and then shoot off at what would be, were it in fact a space-craft, a prodigious speed.
IX
Carol took one of the bedrooms for her studio, and I worked in the other, when I wasn't working outside. The light in her room wasn't ideal, and she suffered from the perfume of the flowers that grew abundantly outside the window. But she had privacy. The garden itself, as I've said, was lovely to be in. Mexican Tea Party testifies to her affection for it. We would sit in that verdant alcove with Claude when she spent Sundays with us.
We were lucky, too, that there were other people living in the compound.
The bungalow was rented by a young Mexican architect. The upstairs apartment in the other building was rented by a young Mexican woman, an academic, I forget in what subject. The downstairs one was rented by a young Mexican in urban planning and his American wife, a thin young woman who was heavily into meditation, macrobiotic foods, and the like. C. disapproved of her spiritual narcissism but found her interesting to think about.
All three Mexicans spoke excellent English. We did not talk with them often—everyone in the compound would probably have agreed with Robert Frost's proposition that good fences make good neighbours—, but there was as much sociability as we cared to have, and the man in city planning was very helpful when we had serious car trouble.
We met more intellectual Mexicans this way than we would have done otherwise. Indeed, we enjoyed more of a sense of community than we would have done otherwise. Virtually all the foreigners that we had known in Tepoztlån during our first year had moved away or died. And it was pretty clear that they hadn't been replaced. If it hadn't been for Claude and my weekly visits to a language school in Cuernavaca, where I chatted with a plump and cheerful young man who either led a very interesting life or invented magnificent fictions, our year would really have been a pretty lonely one.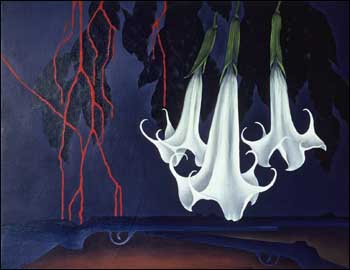 Third World Night, 1981–82, oil